Localization
Localization strategy! Essential to successful overseas expansion
Localization goes beyond the translation level of simple letters, recognizing differences in language, customs, culture, and environment between countries, and reconfiguring goods and services to suit the local market.
Sunyoung provides strategic localization communications that take into account the distinct characteristic of national, laws, and regulations, as well as marketing, to ensure optimal localization solutions that enable companies' products and services to penetrate the local market and drive sales quickly.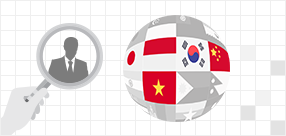 Systematic response
through project team

Minimize claim issues with accurate technical understanding through experts and thorough inspection processes in each field such as IT, home appliances, machinery, chemistry, medical, etc.

Excellent document
visualization

Image is important in the Asian market! Expand business opportunities with more sophisticated and elegant documentation

Global communication
capability

Localization faithful to various needs of customers by securing global communication capabilities in 13 major languages including basic English
Strength
Localized communication, unlike standardized communication with the same strategy around the world, requires understanding and approaching the distinct characteristic of the market. Each country has different climates, languages, traditions, habits, and incomes that influence customer purchasing behavior, and there are differences in market conditions such as the media environment, distribution structure, laws, and regulations. As a result, localized communication requires professionals who have a good understanding of the country as well as the language.
Localization Project Management
Global communication is most effective when localized communication performed according to the characteristics of the local market. We help to enter the overseas market by establishing a global localization network with native speakers.

All projects have a dedicated Project Manager with more than ten years of experience and professional experts in each field, and we have a quality assurance system for each project to provide results optimized for various needs and business environments of our customers.

We also support the creation of advanced technical documentation on various technologies through consultants who are familiar with international and national standards and certifications, as well as engineers with experience in critical industries such as advanced IT, consumer electronics, machinery, chemicals, medical, etc.
1Performance

Over ten years of experience in localizing global companies

2Engineer

Experts in fields such as IT, consumer electronics, machinery, chemistry and medical, as well as international/national standards and certification experts

3Manpower

51 permanent residents including management consultants, statistical experts, engineers, and designers

4Network

Korea, China, Japan export voucher business official organization, 21 partners worldwide
Service
We plan a differentiated strategy with an active imagination and designs new ones that break down cultural boundaries. It provides the best results in all visual design areas such as web and print advertising, posters, catalogs, flyers, BI&CI, templates, making it easier and more convenient to understand your company's products and services. We also offer a variety of one-stop solutions to increase your brand value through original content creation and advertising/marketing, and to help your products and services settle quickly in your target market to drive profitability.
Multilingual Translation

Document Review
Document Translation
Phone Translation

Manual Production

Technical Writing
Technical Illustration
Edit/Publish

Content Creation

Company profile
Product Catalog
Promotional Content

Advertising/ Marketing

News Media
Online Advertising
Events/Promotions
Process
We provide differentiated insights such as extensive A-Z market analysis, accurate problem analysis, and interviews with local buyers so that companies considering overseas expansion can make the right decisions.